ANALYSIS INFORMATION SYSTEMS FORCASH RECEIPTS FROM BUS TICKET SALES AT PT LURAGUNG JAYA LESTARI
Keywords:
Analysis, Accounting Information System, Cash Receipt
Abstract
This study aims to analyze the accounting information system and cash receipt procedures from the sale of PO Luragung Jaya bus tickets and to evaluate the accounting information system and procedures applied to the PO company. Luragung Jaya is appropriate or not based on business aspects. The research method is qualitative, while the data analysis technique used is descriptive analysis of a qualitative approach. In this research data collection techniques include preliminary surveys, field studies with interviews and documentation. The results obtained from this study are the accounting information system and procedures in cash receipts are in accordance with business aspects, but not good enough. There is some documentation that is not yet appropriate and activities carried out without any special rules that are sustainable. The cash receipt system uses a computerized system but not all, there are some that are still manual causing non-uniformity in recording which can result in ineffectiveness in checking in the future.
References
Abdul Arif dan Joni Devitra. 2017. "Analisis dan Perancangan Sistem Informasi Akuntansi Penjualan Komputer pada LKP Tri Arga Kecamatan Sekernan Kabupaten Muaro Jambi". Jurnal Manajemen Sistem Informasi. Volume 2 No. 3 : 675-694
Akmal Hidayat dan Sugiarto. 2012. "Penerapan Sistem Informasi Akuntansi Berbasis Komputer pada Kopinspek PT Sucofindo Cabang Medan". Jurna Wira Ekonomi Mikroskill. Volume 2 No. 01 : 59-66
Ambar Puspa Arum. 2017. "Perancangan Sistem Informasi Akuntansi Penerimaan Kas Berbasis WEB pada Batik Pramanca". Jurnal Nominal. Volume VI No. 1 : 27-49
Jauharul Maknunah. 2015. "Analisis Sistem Informasi Akuntansi Penerimaan dan Pengeluaran Kas pada Lembaga Pendidikan". SMATIKA Jurnal. ISSN:2087-0256 Volume 05 No. 2 : 27-39
Krismiaji. 2015. Sistem Informasi Akuntansi. Yogyakarta: Unit Penerbit dan Percetakan Sekolah Tinggi Ilmu Manajemen YKPN
Mujilan. 2012. Sistem Informasi Akuntansi Teori dan Wawasan di Dunia Elektronis Edisi 1. Madiun: WIMA Pers
Mulyadi. 2016. Sistem Informasi Akuntansi Edisi 4. Jakarta: Salemba Empat
Nena Berta V.P dan Dini Widyawati. 2013. "Penerapan Sistem Informasi Akuntansi Penerimaan Pendapatan pada PT Kereta Api Indonesia Surabaya". Jurnal Manajemen dan Bisnis Sriwijaya. Volume 12 No. 1 : 17-27
Rama Dasaratha V dan Frederick L Jones. 2008. Sistem Informasi Akuntansi Buku 1. Terjemaahan M. Slamet Wibowo. Jakarta: Salemba Empat
Rochmawati Daud dan Valeria Mimosa Windana. 2014. "Pengembangan Sistem Informasi Akuntansi Penjualan dan Penerimaan Kas Berbasis Komputer pada Perusahaan Kecil (Studi Kasus pada PT. Trust Technology)". Jurnal Manajemen dan Bisnis Sriwijaya. Volume 12 No.1 : 17-28
Romney, Marshall B. dan Paul John Steinbart. 2003. Sistem Informasi Akuntansi Edisi 9. Jakarta: Salemba Empat
Sasongko,Budi. 2012. "Rekontruksi Rancangan dan Evaluasi Kinerja Sistem Informasi Akuntansi Penerimaan Kas dari Penjualan Tiket pada Stasiun Bekasi". Fakultas Ekonomi. Jakarta : Universitas Gunadarma
Sekaran, Uma. 2006. Research Methods For Business Buku Dua Edisi 4. Jakarta: Salemba Empat
Suroso. 2016. "Sistem Informasi akuntansi Penerimaan dan Pengeluaran Kas pada PT. Sinar Galuh Pratama". Jurnal Ilmiah "DUNIA ILMU". Volume 12 No. 1 : 137-149
Sutabri, Tata. 2012. Analisis Sistem Informasi. Yogyakarta: Andi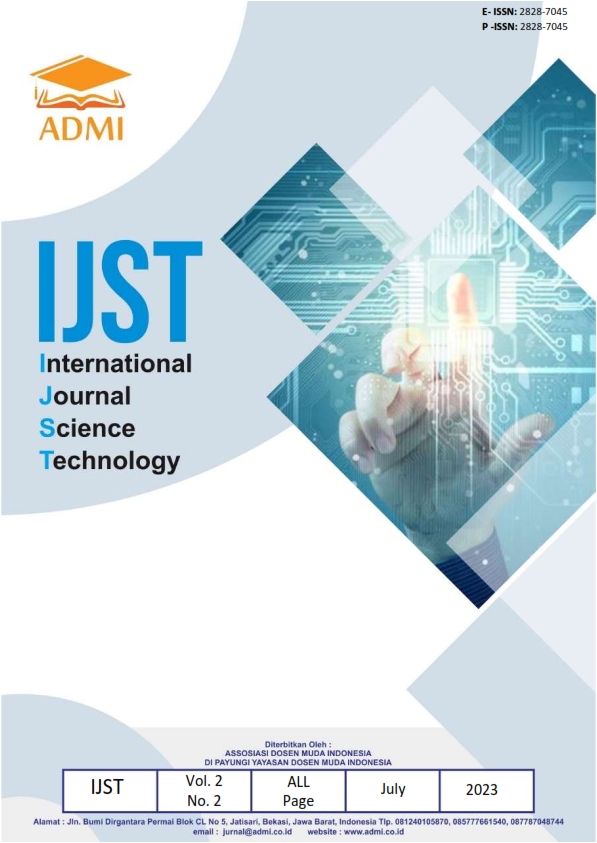 Downloads
How to Cite
Irawaty, I. (2023). ANALYSIS INFORMATION SYSTEMS FORCASH RECEIPTS FROM BUS TICKET SALES AT PT LURAGUNG JAYA LESTARI. International Journal Science and Technology, 2(2), 1–13. https://doi.org/10.56127/ijst.v2i2.722